Size Chart
We would be happy to help you determine the right shoe size. With the following size chart you can easily find out which shoe size you should order. Sizes can vary by style, so getting the right size for you can be a little tricky.  It's important that you have the best shopping experience possible, which is why we'll do the hard work for you with our size converter!
 Important NOTE:
The data in the table relates to the insole, not your foot length. This enables shoe to fit and not squeeze your foot. In the case of pointed shoes, it is advisable to add an additional half to one centimeter. Here it is what we recommend:
Measure your foot as shown in the graphic below.

Add approx. 1 cm to your foot length.

Check the size chart to find out which shoe size fits the insole length determined in this way.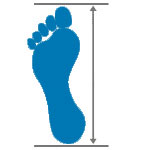 Women's Shoes: insole length in cm
EU

US
UK

CORD

MYRA

OXFORD

SNEAKERS

 LONG BOOTS

    FUTURE BOOTS

SANDALS

Alba

SANDALS

Stella

36

5.5
3
23.6
23.1
24
23.5
23.75
23.4
24
24
37
6.5
4
24.2
24.5
24.5
24
24.5
24
24.2
25
38
7.5
5
24.8
25
25
24.5
25
24.7
24.7
25.5
39
8.5
6
25.5
25.3
26
25
25.75
25.5
25
26
40
9
7
26.1
26.3
26.5
26
26.5
26.2
26
26.5
41
10
8
26.7
27.1
27
27
27.5
26.8
26.4
27.3
Men's Shoes: insole length in cm
| | | | | |
| --- | --- | --- | --- | --- |
| EU | US | UK | SNEAKERS | SANDALS |
| 41 | 8 | 7.5 | 6.5 | 27.3 |
| 42 | 9 | 8 | 27.5 | 28 |
| 43 | 10 | 9 | 28 | 29 |
| 44 | 11 | 9.5 | 28.5 | 29.5 |
| 45 | 12 | 10.5 | 29.5 | 30 |
Kid's Shoes: insole length in cm
| | | | | | |
| --- | --- | --- | --- | --- | --- |
|  EU | US | UK | CROSS BOOTS | TINO | CROSKERS |
| 28 | 11 | 10 | 18.5 | 18.5 | 18.5 |
| 29 | 11.5 | 11 | 19 | 19.2 | 19 |
| 30 | 12 | 11.5 | 19.7 | 20 | 19.7 |
| 31 | 13 | 12.5 | 20 | 20.5 | 20 |
| 32 | 1 | 13 | 21 | 21.1 | 21 |
| 33 | 2 | 1 | 21.5 | 21.9 | 21.5 |
| 34 | 3 | 2 | 22.5 | 22.5 | 22.5 |